TRENDING NEWS:
ADEMILE BAKRAY, alias Infinity, Nigeria's KING of Blackmail in LONDON Exposed-INVESTIGATION
*Defunct Publisher of INFINITY Magazine UK threatens Nigerian women on Hoax stories that may ruin their Homes
*Record these vulnerable Nigerian women on Video, Publish same on Internet
*Ruined the HOMES of some of his female victims on Social Media
*ANGRY Nigerian Women flood Internet, Spew him CURSES in Audio, Video
*Untold story of his FAKE CELEBRITY lifestyle in Europe in Shambles
* We AWAIT Infinity RIGHT of RESPONSE on this Developing Story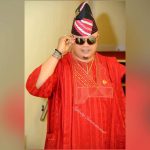 BY TOPE AKINYEMI/INVESTIGATIVE REPORTER, AMSTERDAM & CLEM OBIORAH/ ONLINE EDITOR, ABUJA
WE WERE inundated with flurry of of phone calls, text messages from several Nigerians resident in Europe and Nigeria on the seeming, alleged atrocities being perpetrated continually by one Moshood Odeyemi Bakray, known in the Queen's enclave as 'Infinity' against some Nigerian women in Lagos, Abuja and United Kingdom now dubbed 'Blackmail on Internet.' This controversial personality notoriously called Ademile Bakray on social media, who doubles as the publisher of the defunct Infinity magazine has been identified as the Nigerian out there in London who lives on the vulnerability, gullibility of Nigerian women and ladies to eventually lure them into tape-recording adultery and prostitution session through blackmail. Repeatedly soiling the image of Nigeria's reputation in Britain.
Getting into the source of this debacle, our editorial crew were sent copies of various videos where Infinity was allegedly given unprintable instructions to some Nigerian women on how each one of them should expose their anatomies, dance nude and wriggle their bodies to various sounds he played on the background. These are in additions to other documents we received including several audio and video tapes released to us by angry Nigerian women that further corroborated this news, exposed the true identity of Ademile and placed curses on him.
Undercover investigation shows that what he does is to use his network of few Nigerian ladies to allegedly convince any Nigerian society woman that he thinks he may want to entrap into his sexual orgy and would want to exploit financially by claiming there are documents in his possession regarding damaging news stories he received that are going into production, except the Nigerian lady in question come to see him in a secluded hotel in London. Through the instruments of blackmail, Ademile is alleged to have notoriously ruin homes of some Nigerians both in Britain and Nigeria.
Infinity allegedly takes his Satanic ambition further by publishing these unwholesome and derogatory video on social media thinking by doing that he would create fear in the abused Nigerian women and they would no longer be bold enough to raise their heads in public. Far from it, these Nigerian ladies, to which we don't know or have NEVER EVER MET, are speaking out and raining curses of various magnitude on Infinity. As men of the Fourth Estate of the Realm, our rights to inform Nigerians at home or abroad of issues affecting Nigerians in generality prompted our news reporters to follow the 'rabbits' hole in chase of this shocking revelation.' In our possession are evidential videos recorded by Ademile and audio voices of some angry Nigerian women that Infinity had 'rubbished'.
In the first video which lasted 48 minutes, with Infinity's voice echoing on the background. You will hear this conversation between this Nigerian already naked in a hotel room and Ademile below: Nigerian lady says: "I am dam wet. I am wet to the back." Ademile replies: "No, it is not, you are not bending down. You have to use, you have to stand normally and just be dancing normally. "I don't know how to do it, I mean it", the lady said. Ademile hissed and says: "You are just pretending. Be shaking your yansh from back. Oya turn it now let me see." The lady replies: "I am shy joor." Not taking NO for an answer, Ademile interjects: "What is making you shy? May be make I call that guy make him handle you. At least he go do anything I want." In Yoruba language he says: "Se kin'pe, meaning Can I call him?" The first video ended with Infinity saying: "Let me call him, it is getting late. What is the time now?"
The second video lasts for 59 minutes. It shows a Nigerian lady wearing a blue underpants dancing to a Nigerian artist music for 55 minutes, after which Ademile interjects by saying: "Oya, dance and face me.
The third video recorded by Ademile for 29 minutes, had another obviously shy Nigerian woman dancing to a slow music facing the wall for 15 minutes, and Infinity said: "I an not seeing your boobs ooo." But the lady refused, still wriggling her body, and Infinity said: "I want some of your booob oo." The lady simply said: "I am shy now." Ademile replied: "Please now. I want some of your boobs, just two seconds."
The fourth video was recorded for 1 minute, 20 seconds showing a standing Nigerian lady only wearing black-lace pant and skin brassier, placing one of her legs on the bed facing Ademile, while this man disgustedly used his right toes to fiddle with the lady's pubic hair around the G-zone spot. In 14 minutes into this derogatory video, Ademile said: "Pull your pant for me, please." The lady did. He then cajoled the lady to pull her brassier, the lady objected by saying "NO, I cannot pull my brassier". Again, Infinity instructed the lady to catwalk, but she still refused. Seeing that has failed, Ademile then directed her to catwalk for him, the lady rejected it, after which he began to use his legs again to degradingly fiddle with her pubic hair.
In the fifth video which lasted for 16 minutes, a Nigerian lady naked on the bed, obviously looking tired, sad and exhausted, had another alleged gang member of Infinity inhumanly emptying sperm on the face of this lady.
The sixth video, recorded in a time of 2 minutes 45 seconds had another Nigerian lady forced to fiddle with her Gspot, while same Ademile's gang member also naked heard on background saying: "You are tripping, You want to Fuck? Let's fuck. Okay, come here, come on top of me." At about 2 minutes 12 second, this criminally-oriented Nigeria said: "I want to come in your mouth," and the lady said : "NO, I don't like it." Then he said: "Let me come on your face please." Again, the lady declined.
Some other documents received from some these angry Nigerian lady alleged that Infinity is the man in the nude video, that Ademile is a porn promoter in Nigeria and United Kingdom, UK. The unverified document read (unedited) : "Infinity has claimed Yetunde Oriyomi was the person who supplies him naked Nigerian ladies. Infinity claimed LAFUNKY also make available to him Nigerian naked ladies. Infinity claims Angelic Brown is jobless in UK, Naomi is a fat animal. Abike Jagaban is too ugly at heart. Infinity says Kudi Dolapo is a failure. Our people, please ask this man, how we arrived at all these evil?"
Our correspondents listened to the first audio tape which lasted for 8 minutes 58 seconds, revealing all the blackmail schemes and lies of Infinity in UK. The says Infinity records all Nigerian ladies to blackmail them, record his conversation with people always for the purpose of blackmail. All the 10 audio tapes by these Nigerian women sent to us exposed Ademile as "most untruthful Nigerian, wicked, pessimist, kill-joy, home breaker, fraudster who lives on the fast lane of evil for survival."
Our correspondent further gathered that Infinity lives a make-belief life in London, wanting Nigerian community to believe he validly wealthy, that he earned his funds from a clean source and that he has arrived; whereas it is a fluke, a mirage.
We are using this medium to inform Nigeria's anti-human trafficking body and other security agencies in Nigeria to keep a close tab and conduct a comprehensive investigation on Ademile Bakray, a.k.a Infinity. This is just the first series of this publication on Ademile being PART ONE. We will continue to dish out other series of this news until we hear directly from Infinity.
We fully await the official response of Infinity to this trending news story, as we are ready to allow him his Right of Reply respond to the allegations made against him.