BREAKING NEWS:
INTERPOL declares PDP Delta State Chief, Akpanoko London, WANTED for Wire Transfer Fraud in America
*Still in Search by Judicial Authorities of United States for Prosecution to Serve a Sentence
*Escaped, Flee to Nigeria, Lives a luxurious Life in Jesse Kingdom
*Fugitive Oils Political Aspiration, Eyes Nigeria's politics 2019
*Last seen December 31, 2016 on Facebook at 2:07pm
* 'Reaches out to EFCC to help nab Suspect'-INVESTIGATION
*QUOTE: "He wanted to be where no one would know who he was. He wanted to escape from himself"―Oscar Wilde,The Picture of Dorian Gray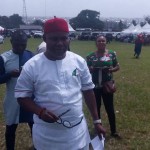 BY OGECHUKWU ILOPITA/ANTI-GRAFT EDITOR, ABUJA & GEORGE ELIJAH OTUMU, FOREIGN CORRESPONDENT, UNITED STATES
WORLD'S largest International Police Organization, INTERPOL, with 190 member countries, has extended its dragnet and declare wanted one Akpanoko London, a-47 year old Nigerian fugitive who escaped from the face of law while in United States wanted for 'Conspiracy to Commit Fraud.'
According to INTERPOL, Akpanoko was allegedly involved in some shady deals when he last visited United States, working with some other people, now at large, he had the intent to conspire with these groups of people to defraud innocent American victims by engaging in plans to commit wire fraud.
Akpanoko had allegedly planned to wire huge sums of money, proceeds of crime from his base in United States to some remote bank accounts in Delta, Lagos and Abuja, believed to be fully operated by him and other members of his gang.
Inside sources in INTERPOL told our correspondent that this Nigerian politician seeing as a High-chief in Jesse Kingdom, with a strong voice as an advocate in Delta State was tracked through Verizon, T-mobile and AT &T networks, and his phone conversation analyzed. His wire transfer activities and scam emails were then thoroughly analyzed. It was then discovered by American security agencies that Akpanoko was at the final stage of pulling off a mind-boggling wire transfer. Plans were made by American cops to apprehend him after they had received a judicial pronouncement for his arrest.
Somehow, Akpanoko got wind of his arrest and escaped to Nigeria, hid himself away in Delta State, without telling anyone his atrocities in United States. At this juncture, American security agencies reached out to INTERPOL to help effect Akpanoko's arrest. But a step farther than his hunters, this suspect had gone aground, only come out occasionally from his hiding. He was last seen on Facebook December 31, 2016 on Facebook at 2:07pm.
Undercover investigation by our Correspondent confirmed that Akpanoko has been secretly having meetings with some politicians in Delta State, oiling his political machinery with plans to storm the 2019 political scene in Delta state as he eyes political positions.
Attempts were made to get the reaction of Akpanoko on this matter, as inquiry our Correspondent sent him was still pending, awaiting response as at the time of filing in this story.
INTERPOL Press Statement reads: "Our role is to enable police around the world to work together to make the world a safer place. Our high-tech infrastructure of technical and operational support helps meet the growing challenges of fighting crime in the 21st century.
"At INTERPOL, we aim to facilitate international police cooperation even where diplomatic relations do not exist between particular countries. Action is taken within the limits of existing laws in different countries and in the spirit of the Universal Declaration of Human Rights. Our Constitution prohibits 'any intervention or activities of a political, military, religious or racial character'.
"The General Secretariat is located in Lyon, France, and operates 24 hours a day, 365 days a year. INTERPOL also has seven regional offices across the world and a representative office at the United Nations in New York and at the European Union in Brussels. Each of our member countries maintains a National Central Bureau staffed by its own highly trained law enforcement officials.
IF YOU HAVE ANY INFORMATION OF SUSPECT'S WHEREABOUTS, CONTACT INTERPOL: INTERPOL General Secretariat, 200, quai Charles de Gaulle, 69006 Lyon, France Fax: +33 4 72 44 71 63