BREAKING NEWS:
NIGERIA'S Notorious Kingpin, EVANS Disappears in Lagos Police Detention
…30 Heavily Armed Police Officers move him to undisclosed location
*Barred from granting further Press Interviews
*Nigerians Apprehensive on true position of Billionaire Kidnapper
* 'Evans is in a protective custody somewhere out of town'-Senior Police Officer
*PLUS How Evans control Inmates inside the cell, Police to get Warrant to get to pick his father and mother as beneficiaries of illegal proceeds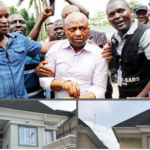 BY OLALEKAN ODUYEMI/CRIME CORRESPONDENT, ABUJA
IN THE LAST 24 HOURS, It has been shock, disbelieve, anxiety and apprehesion as it emerged that the whereabouts of Chukwuduneme Onwuamadike a.k.a. Evans, Nigeria's infamous billionaire kidnapper remains unknown. He is no longer in the detention of Lagos Police Force command.
Lagos residents and Nigerians have been wondering what actually happened to Evans who is alleged to be suffering abnominal cancer. There are speculations and rumors going around that Evans may have escaped from the detention of Lagos Police command or dead.
But latest investigation showed that Evans is not dead as his family now fears but has been moved from the Lagos police command headquarters cell by about 30 heavily armed men at midnight few days ago to an undisclosed destination. Some senior police officers in the know revealed that he was moved to Abuja.
It is true that before now, this conscienceless kidnapper divulged the details of his criminal life to the public almost on a daily basis but suddenly no longer accessible to even the press corps.
So much secrecy now surrounding the exact location of this trigger-happy arrested kidnap kingpin. Silence traceable to his location now baffles those who have closely followed his story since his arrest.
Facts have emerged that Evans had been moved out of the Lagos command headquarters days ago by heavily armed policemen and is yet to be returned. Just last week, police confirmed they had got a court order to detain Evans for three months to give them enough time to complete their investigation. This followed two suits filed by Evans lawyer, Olukoya Ogungbeje, at the High Court seeking his release and claiming N300m damages from the police.
Although, some senior police officers who spoke on the condition of anonymity expressed fears that Evans might not make it to the court. They argued that he might plot his escape from prison, or get across to some of his members who are still on the run. Their concerns are not farfetched, given that several inmates in the past had reportedly committed much heinous crimes even while in prison.
Some of the officers confirmed that Evans was no longer in the police cell in Lagos. One of the officers said: "Evans has not been returned since he was moved out. Evans is a broken man; police can't resort to extra-judicial killings at this point. He is cooperating, and he is ready to help return all his ill-gotten wealth as soon as possible.
"Evans is not an ordinary criminal. I guess that they took him out for further investigation but I don't know why they are yet to return him to his cell." The source further assured: "No one is planning to kill Evans. I believe that they will return him later. He could be in any good cell in the state for security reasons, but I can assure you that he is not dead yet. Even if anything happens to him, if he dies in custody, it will be as a result of cancer which he claims he is suffering from."
Another senior police officer dismissed fears on Evans: "The suspect is okay and he is seriously cooperating with the police in its investigation. From the look of things, he might not spend up to three months in detention before he's charged to court. As for his location, I assure you that he is in a protective custody somewhere out of town. The officer who reinforced fears within the police circle, said that "a criminal is always a criminal, going by the number of robbery cases and kidnappings to his credit, he is well known among criminals."
This police officer explains: "Within the short period that he spent in our cell, he is already controlling inmates in the cell. They fear and respect him; we do not want to run the risk of allowing him to form another notorious group which is common amongst them. A lot of his family members benefited from his ill-gotten wealth, so they are afraid to come close to the police station. Evans confirmed that he bought a car for his father and also gave him N3m. The police will recover such money and properties. We will soon get a warrant to pick his father up and possibly his mother, who also benefited."
Additional reports by Saturday Sun