BREAKING NEWS:
Panic, Fear in Delta State, Militants Blow Up NPDC Oil Pipelines…Nigeria's Security Officials Storm area to Contain Spill
*Niger Delta Greenland Justice Mandate's Gun-wielding Militants Wreck Havoc at 2am
* "We Have Warned that Mobil Producing Nigeria Should Relocate its HQ from Lagos to Akwa-Ibom or Face our Wrath"-Oyobio-Oyobio (New Niger Delta militant group)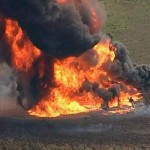 BY IDEDO IDEMUDIA/ENERGY EDITOR, DELTA STATE
TENSION and palpable fear are increasingly and continuously growing following the unexpected attack carried out on two pipelines belonging to the Nigerian Petroleum Development Company (NPDC) at the odd hours of the night on Friday, August 19, 2016 which result in a monumental damage.
Most people are scared that this attack which led out a huge flame in their neighborhood might be carried out again by other Niger Delta militants angry with oil producing companies in other communities in the state or may be extended to other states in the federation.
Exactly at 2am, suspected militants attacked pipelines belonging to NPDC. The militants reportedly blew up two pipelines belonging to the NPDC..
Niger Delta Greenland Justice Mandate (NDGJM), violent gunmen suspected to be Niger Delta militants, have reportedly attacked facilities belonging NPDC.

Eye witness account confirmed that on Friday, August 19, suspected militants blew up two pipelines belonging to the NPDC in Delta state. His words: "The attack occurred at about 2am on Friday and was said to have been carried out by a new militant group, Niger Delta Greenland Justice Mandate (NDGJM)."

According to a terse statement from NPDC, "A technical team of NPDC and security officials have been despatched to the affected area to contain the spill."
Meanwhile, a Niger Delta militant group Oyobio-Oyobio has warned that it is going to carry out its threat following the expiration of its seven-day ultimatum. It was reportedly gathered that the group had warned Mobil Producing Nigeria to relocate its headquarters from Lagos to Akwa-Ibom or face their wrath.
General Obuma Oyobio who is the leader of the group said since the threat has expired without the company making the move to relocate; it will start bringing down aeroplanes. In the words of General Oyobio:"We hereby give a seven-day ultimatum to Mobil Producing Nigeria Unlimited and other oil firms operating in Akwa Ibom State to relocate their headquarters to the state or face dire consequences. "We have the capability to burn down any tank farm and bring down aeroplanes and choppers. Oil and gas pipelines will not be spared during our operations."
We are monitoring and watching development closely.