Bullet Proof Toyota 2016 Land Cruiser…Most Popular Armored Vehicle in the World
* Celebrity Car for Politicians, Entertainers and Elites start from $183,500
*Original Glass replaced with Ballistic Design
*Possesses a Horsepower of 381 hp @ 5,600 rpm, Maximum Speed 130 (209.2) Mph (Kph)
*Features: 20″ Alloy wheels, Cruise control, Electric heated seats, Electric windows
*Doors, Frames reinforced with Ballistic Steel, Composite lightweight materials, overlaps and spall guards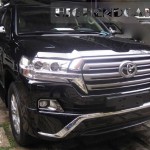 BY ONE'IL JEREMIAH/AUTO EDITOR, CHICAGO
IN the entire world today, recent statistics has shown that a recent that this Bullet Proof Toyota Land Cruiser has become the most popular armored vehicle in the world today. Elites, celebrities and captain of industries proudly purchase this luxurious car to showcase their status symbol in the society and pride-of-place among wealthy friends.
This car, Bullet Proof Toyota 2016 has a life of its own as the maximum comfort you derive in this vehicle can't be attained anywhere else. For only a price starting from $183, 500, as a celebrity politician, entertainer or wealthy entrepreneur you can also own this car whose features include:Automatic air conditioning, Central locking, Cruise control, Electric heated seats, Electric windows, Full Leather Interior, Navigation system, Parking sensors and Power Assisted Steering.
Ever since International Armoring Corporation started business in 1993, the armored Toyota Land Cruiser has been the most popular armored vehicle, and for good reason. The Land Cruiser is known throughout the world as one of the most rugged, dependable and powerful SUVs ever produced. In the latest 2016 model, Toyota has refreshed the design with new styling and amped up the interior with new on-board technology. Offering three rows of seating, this extremely spacious vehicle will get you where you need to go, off-road or on.
International Armoring Corporation takes everything great about the 2016 Toyota Land Cruiser and makes it better. With available run-flat tire technology, electrified door handles, smokescreen, tack dispenser and external siren/PA, this Land Cruiser is fully loaded for protection. International Armoring's custom Armormax technology is the world standard for bulletproofing. Armormax is custom to the layout of the car, and the needs of the customer, all while being lighter than steel and installed weld-free. Contact us today for a free quote for your Bulletproof 2016 Toyota Landcruiser.
Safely Features
ABS
Curtain Airbags
Drivers knee airbag
ESP with EDL + ASR
Four Wheel Drive
Immobilizer
Passenger Airbag
Xenon headlights
Exterior Features
20″ Alloy wheels
Automatic air conditioning
Double Exhaust
Electric Mirrors
Sunroof
Trailer coupling
Extras
2 year Warranty
Auxiliary Audio Input
CD / DVD / MP3 Audio
Full Service History
Vehicle Anti-Theft
Armoring (Standard Details)
*All opaque material surrounding passenger area is reinforced with ballistic steel and composite lightweight armoring materials.
*All original glass is removed and replaced with ballistic glass
*Doors and frames are reinforced with ballistic steel, composite lightweight materials, overlaps and spall guards
*Armored battery, radiator, firewall, front fenders, and fuel tank
*Reinforced suspension
*Run-flat tires
*Tail pipe protection
Specifications
Performance
(Manufacturing Estimates)
5.7 Liter V8
Max Speed MPH (KPH)
130 (209.2)
Acceleration 0-60 MPH seconds
6.7
Horsepower
381 hp @ 5,600 rpm
Torque
401 lb-ft @ 3,600 rpm
Urban MPG (L/100KM)
13 (18.1)
Extra urban MPG (L/100KM)
18 (13.1)
Towing Capacity lbs (kgs)
8,100 (3,674.1)
Curb Weight lbs (kgs)
5,926 (2,687.9)
To Order and buy this all expensive car, kindly contact the manufacturer in United States at:
Phone: +1 (801)393-1075
Fax: +1 (801) 298-0858
Email: sales@armormax.com