Criminal Gangs in Ghana operating Fake US Embassy for 10 years Busted…Ghanaian, Turkish Syndicate illegally obtain Genuine Documents
* Authorizes legitimate US visas with false identification documents, birth certificates at $6,000 (£4,700) each
*US State Department assembles Ghana Detectives Bureau and police to arrest culprits
*American Govt Steps up Plan to Investigate, Verify and Track People issued these visas
*Turkish citizens fluent in English/Dutch poses as American Consular officers
*Confiscates False and Authentic 150 passports from 10 countries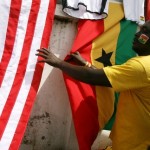 BY GEORGE ELIJAH OTUMU
SHAMEFUL activities of a criminally-minded syndicate group operating in Accra, Ghana in the last 10 years hiding under a false identification of United States Embassy which has led to the exploitation of desperate Africans desirous of traveling to America have been exposed by US State Department acting on a tip-off.
During a carefully-planned raid on the hideouts of these gangs of whose nationalities are Ghana, Turkey, it was discovered that they colluded with some American officials to illegally obtain authentic documents for visas issuance. These criminals charge the sum of $4,700-$6,000 to issue legitimate US visas with false identification documents, as well as birth certificates. They were assisted in their nefarious vices by a Ghanaian attorney practising immigration and criminal law.
US Department of State moved quickly, reached out to authorities in Ghana who busted the fake US embassy in the capital Accra run by a criminal network that for a decade issued illegally obtained authentic visas, as reportedly confirmed by the US State Department.
Until it was shut down, the sham embassy was housed in a rundown, pink two-storey building with a corrugated iron roof and flew an American flag outside. Inside hung a portrait of the US president, Barack Obama.
A statement by US Department of State read: "It was not operated by the United States government, but by figures from both Ghanaian and Turkish organised crime rings and a Ghanaian attorney practising immigration and criminal law. The crime ring issued fraudulently obtained but legitimate US visas and false identification documents, including birth certificates at a cost of $6,000 (£4,700) each.
"The criminals running the operation were able to pay off corrupt officials to look the other way, as well as obtain legitimate blank documents to be doctored."
Deceiving unsuspecting members of the public, Turkish citizens fluent in English and Dutch posed as Consular officers and staff members of the operation. Undercover investigation as confirmed by US Department of State showed a fake Dutch embassy, a position yet to be disclaimed by Netherlands officials.
Meanwhile, during raids that led to a number of arrests, authorities also seized authentic and counterfeit Indian, South African and Schengen zone visas and 150 passports from 10 different countries along with a laptop and smartphones. The statement did not say how the gang obtained the authentic visas or how many people were believed to have illegally entered the US and other countries using visas issued by the crime ring.
There was no immediate comment from Ghana's Criminal Investigations Division. Visas for western countries are in high demand in Africa and embassies say the visa market is a big target for organised crime. The real US embassy in Ghana is a prominent and heavily fortified complex in Cantonments, one of the capital's most expensive neighbourhoods. Lines of people queue outside each day for visa appointments and other consular business.
The fake embassy was open three mornings a week and did not accept walk-in appointments. Instead, the criminals advertised on billboards in Ghana, Togo and Ivory Coast and brought clients from across west Africa to Accra where they rented them hotel rooms in nearby hotels.
As at the time of going to the press, US authorities conducted a broader security operation and ensure the arrested suspects are being investigated by security agencies, while the fake US Embassy has been shut down completely.