DISGRACEFUL IN AMERICA:
NIGERIAN Man, 22, ABRAMSON ABDULLAH ADEKOLA Arrested in Michigan…For Receiving, Concealing Stolen property of less than $20,000
*Faces five year JAIL TERM felony
*Found Guilty of Criminal Investigation Identity Fraud
*Pilfers Innocent Americans' Social Security Cards, emails to make fraudulent purchases on-line
*Forges, Receive, Processes Stolen Items at his Employment work place in Keweenaw County
* Adekola in United States on a working visa, held on a $50,000.00 cash bond
* "We Have Recovered from Adekola's hideout highly Expensive Electronics, Steal Americans' Personal Information to make purchases on-Line"- Keweenaw County Sheriff's Office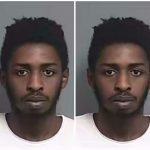 BY GEORGE ELIJAH OTUMU/FOREIGN BUREAU CHIEF, UNITED STATES
HIS NAMES ARE ABRAMSON ABDULLAH ADEKOLA, a 22 year old Nigerian in United States of America on a working visa. He had always been very desperate to live a luxurious lifestyle on a fast-lane, with the sole intention of compelling his family, friends back home in Lagos, Nigeria that he 'has made it' and arrived as a 'successful person' in Yankee. His various crimes involving impersonation, forgery, dealing in stolen properties in America finally came to an end, as security agents track, monitor and investigates his criminality, which led to his arrest at Keweenaw County in Michigan.
According to a press statement issued by the Keweenaw County Police, it was reported that an arrest has been made by the Keweenaw County Sheriff's Office as the result of a finding into a criminal investigation identity fraud and stolen property processing operation.
Adekola, after arrest was taken into custody without incident by deputies on August 24th 2017 and slammed with 'Receiving and Concealing Stolen property over $1000.00 but less than $20,000.00'. This charge is a five year felony. Several items of stolen property including electronics have been recovered by the Sheriff's Office.
It is alleged that Adekola was part of a criminal enterprise involving the theft of personal information from individuals which was then used to make fraudulent purchases on-line. The stolen property was being sent to Adekola's place of employment in Keweenaw County where he would process the items. Adekola is in the United States on a work visa. He is currently being held on a $50,000.00 cash bond.
Investigators believe that Adekola is not alone in this crime, that other persons involved are located in one or more foreign countries and at least one other states. The Keweenaw County Sheriff's Office is in contact with various federal agencies in this matter.