END OF THE ROAD:
South African Police Busts TWO Nigerians, CHINEDU IGALI, OSADOLOR EMMANUEL in Cape Town…For Secretly Printing FAKE Currencies
*Caught using machines to roll out currencies in Rands, Dollars, Euro, Naira and Pound Sterling
*Beg for Forgiveness, Apologizes, Blame the Devil for Deceiving them
* 'We round the Nigerians up while printing FAKE Currencies in a hidden Apartment. They will be prosecuted'-South African Police
BY IYADE TEMITOPE/CRIME REPORTER, SOUTH AFRICA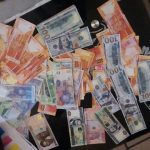 IN CAPE TOWN, SOUTH AFRICA, these two Nigerians live large as big boys, driving latest state-of-the-art vehicles, not knowing that their source of livelihood is built on crime. For years, they (these two Nigerians) print fake currencies in their hideouts in Long Street and Adderley Street where they have apartments hidden away from the public eyes. Their names are CHINEDU IGALI, OSADOLOR EMMANUEL.
Naija Standard investigation confirmed that under the cover of darkness, these two Nigerian criminals will add a few clean bill of Rands and Dollars to the bulky fake currencies and spend the fund in buying huge appliances, costly products. A Police source told our correspondent that Chinedu and Osadolor confessed under interrogation that the Devil deceived them into engaging in crimes, apparently begging for forgiveness.
Unfortunately for these Nigerians, their nefarious activities have fallen under radar of American security agents close watch. They were tracked, trailed, busted, arrested and being prosecuted for financial money laundering, fraud. The syndicates were apprehended by security operatives while printing their fake currencies.