INSPIRING STORY OF A NIGERIAN BILLIONAIRE:
HAKEEM Olajuwon, Nigerian born 'Dreamer' American Basketball Legend Networth hits $200million….Retires into Real-estate dealer in Houston, turns successful Instructor for NBA players
* Lagos native was only player in NBA history to win NBA MVP, Defensive Player of the Year and Finals MVP awards in the same season
*Famous as cornerstone of the Houston Rockets for 17 of his 18 NBA seasons
*Starts playing basketball at 15 years old in Muslim Teachers College Lagos
* How he made over $100 million profits from lawful Real estate business in Texas
*Attracts NO SINGLE scandal on-and-outside the pitch
*PLUS How he emigrated to United States to play basketball at University of Houston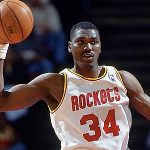 BY GEORGE ELIJAH OTUMU/FOREIGN BUREAU CHIEF/UNITED STATES OF AMERICA
DO YOU EVER BELIEVE IN THE POWER OF DREAMS? Has your heart been pondering on a career, an adventure or a project, but based on the vicissitudes of life you felt like like giving up? Don't just give up that dream. This true life story of Hakeem Abdul Olajuwon, a Lagos born Nigerian native who had a dream of been the greatest American Basketball maestro of all times will further inspire you never to quit your dream. As young as as 15 years while still a student at Muslim Teachers College, Lagos, this 7 ft 0 in (2.13 m) tall, who once reportedly admitted to be standing closer to 6 ft 10 in (2.08 m) dunked endlessly in any basketball game competition in Nigeria.
He would always tell his friends that someday his dream would come through as America's greatest Basketball Icon of all times. Just by distance of time, that dream and confession came true. Today, Olajuwon is a famous and household name not only in Nigeria, but in America as a Naturalized American citizen. In Europe, Asia and other parts of the world, barely mention of his name opens door in any corridor of power. The networth of this inductee into America's Basketball Hall of Fame is presently at $200million.
Olajuwon emigrated to the United States to play basketball at the University of Houston. Mistakenly enrolled as "Akeem" but appropriately nicknamed "The Dream" for his eye-opening skills, Olajuwon teamed with future NBA All-Star Clyde Drexler on the high-flying "Phi Slamma Jamma" squads, leading the Cougars to three NCAA Final Four appearances.
He played for the University of Houston under head coach Guy Lewis. His college career for the Cougars included three trips to the Final Four. Olajuwon was drafted by the Houston Rockets with the first overall selection of the 1984 NBA draft, a draft that included Michael Jordan, Charles Barkley and John Stockton. This skillful sports Icon combined with the 7 ft 4 in (2.24 m) Ralph Sampson to form a duo dubbed the "Twin Towers". After the 1983-84 season, in which he topped the NCAA with 13.5 rebounds per game, 5.6 blocked shots per game and a 67.5 percent field-goal percentage, Olajuwon was selected with the No. 1 pick in the 1984 NBA draft by the Houston Rockets.
Olajuwon was an instant star in the NBA, displaying stunning quickness and agility en route to 20.6 points, 11.9 rebounds and 2.7 blocks per game as a rookie center. He formed one half of Houston's formidable "Twin Towers" duo with 7'4″ Ralph Sampson. The two led the Rockets to the 1986 NBA Finals, where they lost in six games to the Boston Celtics. After Sampson was traded to the Warriors in 1988, Olajuwon became the Rockets' undisputed leader. He led the league in rebounding twice (1989, 1990) and blocks three times (1990, 1991, 1993).
Despite very nearly being traded during a bitter contract dispute before the 1992–93 season, he remained in Houston where in 1993–94, he became the only player in NBA history to win the NBA MVP, Defensive Player of the Year, and Finals MVP awards in the same season. His Rockets won back-to-back championships against the New York Knicks (avenging his college championship loss to Patrick Ewing), and Shaquille O'Neal's Orlando Magic. Olajuwon averaged 27.3 points, 11.9 rebounds and 3.7 blocks per game, and the Rockets outlasted the New York Knicks in an exhausting seven-game series to win the NBA championship. It truly was a dream year for "The Dream."
In 1996, Olajuwon was a member of the Olympic gold-medal-winning United States national team, and was selected as one of the 50 Greatest Players in NBA History. He ended his career as the league's all-time leader in blocks (3,830) and is one of four NBA players to record a quadruple-double.
This 54 year old Nigerian-American former professional basketball player ensured he dunked more from 1984 to 2002 where he played the center position in the National Basketball Association (NBA) for the Houston Rockets and the Toronto Raptors. He led the Rockets to back-to-back NBA championships in 1994 and 1995. He was the cornerstone of the Houston Rockets for 17 of his 18 NBA seasons, "The Dream" led the Rockets to back-to-back championships with his scoring, rebounding and shot-blocking abilities. He was named to the Naismith Memorial Basketball Hall of Fame in 2008,a fitting coda to the career of one of the game's all-time greats.
Still in 2008, he was inducted into the Basketball Hall of Fame, and in 2016, he was inducted into the FIBA Hall of Fame. Olajuwon is considered one of the greatest centers ever to play the game. He was nicknamed "The Dream" during his basketball career after he dunked so effortlessly that his college coach said it "looked like a dream to him.
Hakeem "The Dream" Olajuwon led the Houston Rockets to back-to-back NBA championships during the peak of his magnificent 18-year professional career. After he successfully secured his U.S. citizenship, Olajuwon won a gold medal with the 1996 U.S. Men's Olympic Basketball Team. Soon afterward, he was named one of the 50 Greatest Players in NBA History as part of a campaign to mark the league's 50-year anniversary. However, after one more typically huge season, his performance on the court began to taper.
Olajuwon was resilient and steer off any form of scandal by living a decent lifestyle on and off the pitch. He retired after spending the 2001-02 season with the Toronto Raptors. Over the course of his 18-year career, he was named to the All-NBA First Team six times, and to the NBA All-Defensive First Team five times. He finished with impressive averages of 21.8 points and 11.1 rebounds per game, and a record 3,830 total blocks.
He knew he still had much talents inside of him. Olajuwon reinvented himself as a successful real-estate dealer in Houston and much-sought Instructor for NBA players seeking to improve their moves around the basket. After his successful NBA career, Hakeem Olajuwon invested in real estate in Houston Texas. He was also selected as one of the Greatest Players in the history of NBA.
Recent research shows he reportedly made over $100 million profits from real-estate business legally by purchasing real estates and sell them on higher prices.
Olajuwon directly buys the asset and does not pay or charge interest, as it is against the Muslim law, thus the risk associated with his business is minimal as compared to others. When not tending to business in Houston, Olajuwon spends his time with his family at a home in Jordan, where he studies the Koran. Truly, dreams do comes through, if only one is focused, determined, resilient, hardworking, creative, refused to be distracted by 'anxiety of mankind.'