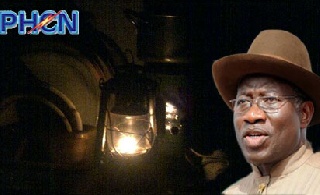 REVEALED: INEXPERIENCED 10 POWER SECTOR FIRMS EMERGED WINNERS! Jonathan Sells off Nigeria's Electricity Distribution at 197.25 billion naira to Friends …IBB, Abdusalami Abubakar, Elumelu, Otedola, Emeka Ofor's backed Firms among Bidders!
NIGERIA energy sector is in trouble-comatose at the moment, unless expertise and professionalism are being brought into Africa's world's seventh largest gas reserves, the country may continue to dwell in 'blackout', as corruption in the power sector orchestrated by cabal, who are now members of Nigeria's economic team and syndicates who are generator importers are bent on ensuring that darkness rules over the nation.This is simply the reason corruption, mismanagement and the strength of vested interests mean that despite an estimated $40bn of capital injected into reforming the power sector over the past two decades, capacity has only improved marginally. Unfortunately for the incumbent administration of President Goodluck Jonathan, a former lecturer in Niger-Delta, he had recently sold off Nigeria's electrity generating plants to 10 companies who have little or no knowledge on how to revamp the power
sector at a whooping sum of $1.25 billion (197.25 billion naira). The question on the lips of Nigerians is why must Jonathan order such electricity sell-off to companies allegedly owned by his friends without experience to revamp the power sector, except for political patronage. As said, many of the companies involved in the bids have little or no power sector experience, while others are backed by powerful political interests but have technically capable partners.
Corruption 'Kills' Nigeria's Power Sector, Cabal returns Darkness to Country
Naija Standard investigation reveals that the emergence of Professor Barth Nnaaji, then as Nigeria's
Minister for Power Sector made both the cartel and generator syndicates jittery, such that they mounted
political pressure through hores-trading on Aso Rock to relieve Nnaji of his job when they learnt the
earstwhile minister sacked top directors in Power Holding Company of Nigeria, (PHCN) who are their godsons.
Understandably, Nnaji sacked the PHCN directors for alleged sharp practices, high handedness and corruption;
which did not argur well with the cabal and generator syndicates, since those directors were sabotuers frutr-
ating the contry's energy sector deliberately. To many observers, endemic corruption is killing the nation's
power sector, while the cabal has fully retuned darkness to Nigeria.
Nnaji added 50% to National Greed
Further investigation by Naija Standard confirmed that Nnaji within his brief stay in office, was able to
add a whopping 50 per cent to national power output. It is on record that under former President Obasanjo
who poured billions of dollars into the sector, output never went beyond 3,000MW. It is a perplexing
paradox that a man who achieved over 4,400MW was been removed unceremoniously. Nnaji ruffled feathers
with the reforms he attempted to implement.He has tried to tackle corruption and inefficiency in the
power sector, which angered civil servants likely to lose their jobs. Also, wealthy businesses which
import generators criticised his plans to sell 11 distribution and six generation companies as part of
a privatisation initiative.
Generator Syndicates Exposed
Our correspondents can assure that any significant improvement in power supply is in direct conflict
with the interests of big time importers of generators and the diesel to power them. Some merchants
whose importation businesses are thriving because the nation is in darkness would want the energy
crisis the nation always had to continue forever if government allows.
Mikano, 82 Other Genetor Cartel Companies Behind Power Instability Exposed
Naija Standard exposes these generator syndicates. They all came together under the aegis of Generator
Companies in Nigeria, with an aim-to keep importing and selling generators to Nigerians in
collaboration with the cabal in the power sector energy distribution. Their names and lists are:
Mikano Nigeria Limited, Ziatech Nigeria Ltd, Fuel Managers Limited, Nigeria Deal, Power Projects Limited,Nigeria Power
Projects Limited, Gas Land Company Limited, Grass Art Nig. Ltd, Zigma Concept Service, Sohaco Nigeria
Limited, Focap Ventures Nigeria stallatioght And Homes, First Gold Chip International Limited,
Dacitas Plc, Anarola Cross Atlantic Trade Ltd (Acat); Sam Sunshine Investment Nigeria Limited,
Rite Choiz Nigeria Enterprises, Olu Balogun Nigeria Enterprises, Markjacko Seecurity System,
Foyem Professional I. T. Group Representative, K&P Oil & Gas Consulting Co, Ltd, Transpacific
Integrated Services Nig Ltd, Orkila Chemical Nig Ltd, Orkila Chemical Ltd, Transpacific Integrated
Service Nig Limited, Chogon Facilities Services Limited, Spreading Across De Globe Ltd, Guardgates Limited;
Nisec Hightech And Training Services, Sabcom Elect. Ent., Fortress Agricultural Services Nig, Ltd and Others.
Former Heads of State, Abduslami Abubakar, IBB, Elumelu, Otedola, Others among the Bidders
One thing is common with almost everyone mentioned here: 'friends of Jonathan' and either members of
Economic Team or National Council of State. These are high profile Nigerians in the corridor of power
who had been of one or more assiatnce to Jonathan in the Peoples Democratic Party (PDP), especially
during his then presidential campaign to becoming president. Their advise, words and economic policies
to Aso Rock is sancrosanct. No wonder, Jonathan treats them so special. Nigeria announced the preferred
bidders on Tuesday for 10 state power distribution firms by selling for 197.25 billion naira
($1.25 billion) as part of a plan to reform the country's moribund electricity sector.
Power outages, which amount to several hours per day, are the biggest brake on growth in Africa's
second biggest economy and a frequent complaint of Nigeria's 160 million people. For the records, in 2010,
Jonathan announced plans to break up the state power company and sell it off as 11 distribution and
six generation companies. He has promised a tenfold increase in electricity by 2020. There was a bit delay
in the process because previous state sell-offs in Nigeria were blighted by political infighting and
corruption, which have caused years of delays, but regulators said this process had been more transparent.
For the National Council on Privatisation, (NCP),its technical committee chairman Atedo Peterside reportedly said
"the process that throws up the bidders will produce the most appropriate core investors and fulfil the
government's objectives of rapid transformation," at the bid announcement in the capital, Abuja.
The distribution firms (DISCOs), which are responsible for delivering electricity to end-users
and collecting payment, were sold at a fixed price set by regulators, so bids were ranked on how
efficiently the company promised to run the businesses. Four of the firms – covering Jos, Kano,
Port Harcourt and Yola – only had one approved bidder each.
Many of the companies involved in the bids have little or no power sector experience, while
others are backed by powerful political interests but have technically capable partners.
Integrated Energy, which is chaired by former military ruler Abdulsalami Abubakar and is
partnered by the Philippines' largest power retailer Manila Electric, bid the highest
efficiency target for four DISCOs in Yola, Ibadan and the two covering the commercial capital
Lagos; Eko and Ikeja. Chrome Energy, which is chaired by billionaire businessman Emeka Offor,
is part of the highest assets in Enugu and Abuja. Aura Energy, which according to its website
was created to buy a coal mine, was the sole bidder for the Jos DISCO and could win by default,
while 4Power Consortium, which is made up of several Nigerian companies and an Indian firm, was
the only bidder for Port Harcourt, which covers the oil producing region.
Sahelian Energy, a three year old company with no experience of running power assets, was the lead
company in the only consortium bidding for the Kano firm. There were no qualified bids for the Kaduna firm.
Despite holding the world's seventh largest gas reserves, Nigeria only produces a tenth of the
amount of electricity as South Africa for a population three times the size. ($1 = 157.2750 naira)
(Editing by Tim Cocks)
IBB, Otedola, Elumelu backed group emerged Bidder
Just recently, Naija Standard observed NCP in Abuja, opened the financial bids submitted by investors
wishing to acquire the state-owned power generation companies, with foreign-based companies
alongside their Nigerian partners emerging as winners of the power assets put up for sale or concession.
Some of the companies that emerged preferred bidders at the end of the exercise were backed by former
military president, General Ibrahim Babangida (rtd); Chairman of Forte Oil Plc, Mr. Femi Otedola;
Chairman of Transnational Corporation of Nigeria Plc (Trancorp), Mr. Tony Elumelu; former military
governor of Kano State, Col. Sanni Bello (rtd); and oil and gas magnate, Mr. Tony Onoh.
Other prominent persons that bid for the power plants included former Chief of General Staff,
Vice-Admiral Okhai Akhigbe, and a former senator and retired military officer, Brig. Gen, Tunde Ogbeha.
During the financial bid opening, Transcorp, alongside its partners, offered $300 million to emerge
the preferred bidder for the 360 megawatts (mw) Ughelli power plant in Delta State.
Transcorp beat two other bidders, including Feniks Electricity and Amperion Power Distribution Limited,
which offered bid prices of $54 million and $252 million respectively.
Both Transcorp and Amperion's bid prices were, however, said to be above the reserve price, which enabled
Amperion to emerge the reserve bidder for the Ughelli plant. The Amperion Group is jointly owned by Israeli
-based BSG Resource Limited, State Grid Corporation of China and their local partner, Forte Oil.
The privatization agency has said Nigeria's economy could be growing at over 10 percent, compared with
around 6.5 percent now, if it solved its power crisis, but it would need $15-$20 billion of investment
in the next three years. Nigeria holds the world's seventh largest natural gas reserves but decades of
governments have chosen to cash in on crude oil sales rather than investing for domestic power needs.
Nigeria uses a Quarter of New York electricity to serve Nigerians
Nigeria only provides its 167 million inhabitants with around a quarter of the amount of electricity used
by New York City, leaving those who can afford it to use expensive diesel generators and those who can't
to live without any power.
Nigeria is Africa's leading oil producer, with huge natural gas reserves. The country is often hit by fuel
and electricity shortages, as the government prefers to export oil rather than using it for domestic needs.
Should Transcorp pay for Ughelli, it will be acquiring 100 per cent of the plant. Amperion's $128.52 million
as the sole bidder for the 414mw Geregu power plant fell below the reserve price of $132 million to acquire
a 51-per-cent stake and was offered the chance to match the reserve price to win the power plant. Same way,
CMEC/Eurafric Energy, comprising a Chinese firm and Eurafric, a Nigerian oil and gas firm owned by Tony
Onoh, offered $201 million to secure the 120mw Sapele power station, thus defeating its contender JBN-Nestoil
(Julius Berger Nigeria Plc-Nestoil), which offered only $80 million initially.
JBN-Nestoil, however, was allowed to revise its bid price to $106.5 million, a figure declared by the NCP to
have exceeded the reserve price. By revising its price upwards, JBN-Nestoil automatically emerged the reserve
bidder for the Sapele plant.
Meanwhile, Mainstream Energy Solutions Limited, which has ties to Bello, Akhigbe, Ogbeha and Alhaji Ismaila Isa
Funtua, Chairman of Bullet Construction Company and patron of the Newspaper Proprietors' Association of Nigeria
(NPAN), who is the vice chairman of the consortium, was also the sole bidder for the Kainji-Jebba hydro electricity
plants, as Mainstream offered $50,760,665.18 as fixed annual fees for the facility.
Peterside concluded that the NCP had done its best to ensure that the genco transactions were accomplished in
accordance with internationally accepted standards, stressing that the "NCP raised the qualification bar to
ensure that only operators who are technically qualified and financially sound make it to the finishing line".
In his remarks, Minister of State for Power, Mr. Darius Ishaku, described the successful conclusion of the
exercise as a milestone in the history of the country, given the level of transparency attached to the entire
selection processes.
National Assembly commend bidding process
From the National Assembly, Chairman, House Committee on Power, Mr. Patrick Ikhariale, said the event marked
"a new dawn and glorious day" for the country as the issue of monopoly, which had been one of the major problems in
the power sector, would be rested. Also, Chairman, Senate Committee on Privatisation, Senator Olugbenga Obadara,
commended the exercise, adding that the Senate would intensify its oversight functions to ensure that the new
management of the various generation companies are held in trust for Nigerians.
Why Jonathan is Helpless…against cabal
Further discreet investigation conducted by our correspondent showed that the president's hands are
ironically tied because the cabal are majorly his 'think-tank' economic team members, national award
holders and financial supporters of the ruling PDP.
PHCN Managers buy new cars…orders Crazy Bills in Nigerian Homes
Sadly, from Lagos to Abuja, Port Harcourt to Zaria, Ibadan to Borno, Kogi to other parts of the country,
PHCN Branch/Zonal Managers now drive 'big' vehicles and choicy cars as a result of making easy money by
delibrating bringing arbitrary electric tarrifs to consumers, who are ordinary Nigerians. Naija Standard
gathered that Nigerians had been placing curses on these PHCN officials.