SHOCKING:
'LIBYAN Human Traffickers Sell NIGERIANS, Africans as Slaves…Harvest their Organs, Mutilate their Bodies, Roasted as SUYA Alive'-Femi Fani Kayode, Nigeria's former Minister of Aviation
*Migrants sold off for little as $800 (£665), Cries they want to go home
*Hundreds of Nigerians perish while trying to cross the Mediterranean
*Thousands die weekly, 75 percent of African Migrants are Nigerians
*Why is African Union, ECOWAS Silence in face of Crisis
* "We were Beaten, RAPED, Starved for FOOD. Some of us are even PREGNANT. We want to go back home. Nigerian government should help us"-Nigerian Girls cry for help
* "120,000 NIGERIAN Migrants still Stranded in Libya"-INVESTIGATION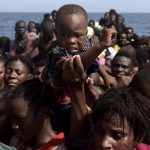 BY GIDEON IMADENO/REPORTER, TRIPOLI & GEORGE ELIJAH OTUMU, FOREIGN BUREAU CHIEF, UNITED STATES
A SERIOUS PROBLEM is presently facing the African continent as a result of the reckless manner Libyan human traffickers humiliate, treat like dumpsters, sells off thousands of Nigerians, other Africans who in desperate moves to illegally travel Abroad arrive Libya via sub-Saharan desert. They are not only sold, but have their bodies mutilated, passed through pains, while many of them are eventually 'roasted alive'.
This position was confirmed by Femi Fani-Kayode, former Nigeria's Minister of Aviation through his Twitter handle where he revealed that African migrants are being sold as slaves by Libyan human traffickers, "have their organs harvested, bodies mutilated and roasted like kebabs", claims Fani-Kayode, made shocking confession.
He said Nigerian slaves have their organs harvested before they are roasted alive. This comes as special report reveals African migrants are sold as slaves for as little as £665. In Feni-Kayode's words: "Nigerian migrants are having their organs harvested after being sold into slavery in Libya. 75 per cent of slaves who have their organs harvested in North Africa are from Nigeria."
According to the Cambridge University-educated lawyer, he twitted that the victims have their 'bodies mutilated' and are 'roasted like suya [shish kebabs]'.
He went on: "Roasted alive! This is what Libyans do to sub-Saharan Africans who are looking for a transit point to Europe. They sell them into slavery and either murder, mutilate, torture or work them to death."
Fani-Kayode, writing on Twitter, also bemoaned the overthrow of Libyan dictator Muammar Gaddafi and attacked Nigerian president Muhammadu Buhari for 'remaining silent' about slavery. It comes after a shocking report revealed that migrants and refugees are being sold as slaves by human traffickers in Libya for as little as a few hundred pounds.
In spite of the danger, thousands of migrants still arrive in Libya, many from sub-Saharan Africa and Africa's Horn in the hope of crossing the Mediterranean. Though Italy and the European Union have been financing and training Libya's coastguard to stem the flow of people crossing the Mediterranean, many see their journey to Europe end in Libya.
Libya, a country in chaos since the overthrow of longtime dictator Muammar Gaddafi in 2011, more or less shirks any responsibility for the thousands of people stranded on the banks of the Med. While some are sent to detention centres, many are simply left in the hands of the human traffickers whom they had either paid or to whom they owe substantial sums.
Investigation conducted by our correspondent showed that hundreds of Nigerians perish while trying to cross the Mediterranean. Eye witness account and one of the survivor, a Nigerian man, Kolade Iluade told our correspondent that in desperate bid to travel Overseas, sell off all their properties, embark on 'unknown journey' to Libya without a single knowledge of the dangers ahead. His confession: "Over 70 percent of Nigerians on the journey had no idea of dangers ahead. Many of us are captured by Libyan Human Traffickers, beaten, humiliated and locked in detention. Few Nigerians, other Africans that are lucky to escaped, perish and die in the Med. sea. Thousands die weekly, 75 percent of African Migrants are Nigerians. I can say that hundreds of Nigerians die in the Mediterranean sea"
For Tina Ugbade, an hair stylist from Edo state who also embarked on this journey, she regretted ever to have traveled on the Libya's expedition as she saw death daily. Her words: "I regretted ever to have decided that I had to travel illegally to Europe through Libya. I was deceived by a Nigerian man who may of us know in Benin city to be a European, promising to give me a good hair stylist job in Europe where I would be paid huge sums of money in euro currency. Time has shown me that not all that glitters are gold. On arrival in Libya after a long, exhaustive and torteous journey, all the Nigerian girls were handed over to Libyan wicked-looking human traffickers as sex slaves. We were beaten, raped, starved for food. Some of us are even pregnant. We want to go back home. Nigerian government should help us."
Further investigation confirms that are still 120,000 Nigerian migrants still stranded in Libya, with no hope in sight on how they are going to escape the detention of Libyan human traffickers who are holding them hostage against their will. These Nigerians have no money, no food to eat and many are dying daily.
But why is African Union (AU) and Economic Community of West African States (ECOWAS) in deafening silence in face of these crises facing migrants from Nigeria and other parts of Africa? Efforts to get the reaction from AU and ECOWAS met brickwall.
For the records video obtained by Cables News Network, (CNN) shows a slave auction in Libya where Nigerian men are being sold as 'big strong boys for farm work.' In the video, the auctioneer can be heard shouting prices, before one of the men is sold for 1,200 Libyan dinars – the equivalent of about $800 or £665.