AFRICA, STILL MOURNING!
Fearless Komla, BBC Broadcaster Dies at 41… Africans, African-Americans sad over demise  
* "A leading light in African journalism"–BBC Global News Director, Peter Horrocks
* Why he joined BBC after winning Ghana Journalist of the Year
* "We are lost for words in Komla's passing"–Family
* "Our nation has lost one of its finest ambassadors"–Ghana President, Mahama
BY GEORGE ELIJAH OTUMU/EDITOR-IN-CHIEF/WASHINGTON DC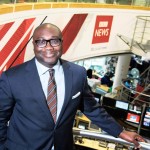 AFRICA is mourning the passage of youthful, energetic and hardworking loss of Komla Dumor, famous and highly revered, been a leading reputable best known Ghana journalist whose short life on earth at the age of 41 impact globally in the Western world, Africa and the rest of the continents across the world. He was main anchor of 'BBC FOCUS ON AFRICA', a celebrity magazine program on British Broadcasting Corporation (BBC).
He died suddenly as a result of exhaustion from a heart attack in London where he was working for the British Broadcasting Corporation. He was a presenter on BBC World News and its "Focus on Africa" programme.
Africans, African-Americans sad over demise  
Sadness is visible on the faces of most Africans and African-Americans in the United States as a result of the death of Dumor, a happy married father of 3 beautiful children. He was an electrifying presenter, very entertaining in presentation and lucid in news analysis. Sure, Africa has lost a worthy news diplomat, one who looked forward daily in bringing sunshine and laughter on the faces of the global audience. Commiseration messages Naija Standard observed are daily being passed now to the office of Ghana High Commissioner to United States.
His aspiration of anchoring World Cup in Brazil gone
Like every other journalist, he was called upon by Head of BBC TV to get ready as main anchor for World Cup news presentation in Brazil, but death reared its ugly head. By his death, he overcame 'death', through his victory in 'peaceful sleep eternally' with the Angels in Heaven. No more worries, his good life on earth is a pointer to his 'joy in Heaven,' where the evil hands of jealous colleagues and death could no longer reach him.
"We are lost for words in Komla's passing"–Family
On behalf of Dumor, Esther Cobbah, Media Contact issued a press statement "Gbeho family has officially announced the passing of their son, Komla Afeke Dumor , who died in London after suffering a cardiac arrest. Hours after the news broke; the family said they are "lost for words at Komla's passing".
The Dumor, Gbeho and allied families with deep sorrow announce the passing of our beloved Komla Dumor today in London.
Komla, as is well known, has been BBC presenter and previously presented the Joy FM Super Morning Show.
"Our nation has lost one of its finest ambassadors"–Ghana President, Mahama
The Ghanaian President, John Dramani Mahama, mourned Dumor's death, posting on Twitter, "Our nation has lost one of its finest ambassadors and "was a broadcaster of exceptional quality and Ghana's gift to the world."
Dumor joined BBC World Service radio in 2007, four years after winning the Ghana Journalist of the Year, for the first time.
In a statement posted on the BBC website, the television broadcaster's Global News Director Peter Horrocks said Dumor was "a leading light of African journalism".
"Africa's energy and enthusiasm seemed to shine through every story Komla told," the statement read.
In his last post on Facebook, where he has about 107,000 followers, Dumor said he was "looking forward" to interviewing a former South Sudan child soldier and musician Emmanuel JAL, in his television programme.
 BBC TV presenter Komla Dumor has died suddenly at his home in London at the age of 41, it has been announced.
Komla joined the BBC African Service in 2007, after more than a decade working as a radio presenter in his native Ghana. He recently became the lead presenter of the BBC's first daily television programme for Africa.
He had a wide-ranging career as an interviewer and presenter – his interviewees included former US President Bill Clinton and the grandson of Nelson Mandela, Ndaba Mandela.
His Career
He started as the morning show host for Joy FM in Accra, Ghana, and was the 2003 winner of Journalist of the Year award given by the Ghana Journalists Association.Dumor joined the BBC African Service in 2006 as host of the radio programme Network Africa. From 2008 to 2012 he presented The World Today on the BBC World Service. In 2011 Dumor began presenting the World News and Africa Business Report on BBC World News television. When the latter was relaunched in 2013; fellow BBC correspondent Lerato Mbele was chosen as host. At the time of his death, Dumor was the only African news on BBC World News.