EXCLUSIVE INTERVIEW:
'I am the New MANAGING DIRECTOR of BEN TV in United Kingdom and Africa, Available on Sky Channel 175 '-Deborah Ronke Apampa, award-wining Nigerian-British ace journalist
*Had outstanding success in her famous TV 'Black Variety' show in England
*Created the TV reality show 'Omotola The Real Me' which sets best record on DSTV
*Produced 'Stars On the Runway' an event with top African celebrities modeling for charity
*Columnist, Opinionated journalist writes first Unpublished Novel at age Nine
* Studied law at London Metropolitan University, graduated from Pan Atlantic University, Worked as Ceo/TV Producer /presenter for BM Epic Media, TV Producer/Presenter R70 UK, attended Independent Journalism Centre
* 'I was a big fan of MEE Mofe Damijo, publisher of defunct Classique magazine, presenter of MEE and You. She died when I was 14 years old. We have come up with new shows that will captivate our different viewers. We are set to reposition Ben TV for greater global audience' -Apampa
SHE IS BEAUTIFUL, INTELLIGENT, HUMBLE AND CEREBRAL. DEBORAH RONKE APAMPA is a highly talented creative Nigerian-British journalist. She is a familiar face in most homes in Britain due to her ingenious quality of broadcasting. Ronke is a fearless writer, columnist, opinionated writer, model and an outstanding broadcaster. In this one-on-one interactive session with GEORGE ELIJAH OTUMU/AMERICAN Foreign Bureau Chief, this charming lady answers all questions: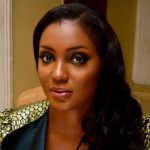 Q: How did you begin your foray into journalism?
I have always had a passion for writing. I wrote my first novel at age nine years which was
unpublished..I guessed it runs in the family. My father was once a journalist but now a legal practitioner and a brilliant writer. My late mom was also a beautiful writer even though she was in the nursing profession. My adopted Aunty, Yetunde Yomi Rowland introduced me to ICNL, publishers of THE NEWS, TEMPO and PM NEWS. I was 17years old when I started writing a column in PM News titled, "For Virgins" and my Managing Director, Mr Babafemi Ojudu suggested I study journalism at the Independent Journalism Centre, Lagos. After that, I left to study Law in England.
Q: What are the high points of your career?
There have been so many high points for me, I will mention a few. The current one is my appointment in April as Managing Director, BEN TV UK and Africa. Also on my list was the success of my TV show in England called "Black Variety Show". It was one of the most popular shows for Africans in the diaspora. I also created the TV reality show, 'Omotola The Real Me'. Till date, it sets the best record on DSTV. 'Stars On the Runway', an event which had top African celebrities modeling for charity on 07/07/07, would remain a day people will never forget been a major achievement.
Q: As the new Managing director of BEN TV in the United Kingdom, what plans have you got to take the station to the next level?
As you probably know, BEN TV is Europe's pioneer ethnic-oriented TV Station founded by
businessman and Presidential aspirant, Dr Alistair Soyode. We have been around for 15years educating and entertaining our viewers in the diaspora. The new CEO, Mr Dotun Adebayo (MBE) and I are creating fresh and exciting entertainment content for a global audience. As creative people, we have come up with new shows that will captivate our different viewers. Trust me, there is something for everyone to watch on BEN TV. Just stay tuned, arm yourself with popcorn and a cold drink and prepare for never been seen, mind-blowing entertainment. We are on SKY Channel 175 and Startime Africa/Freeview Channel 244.
Q: You studied Law at London Metropolitan University and you've also got a certificate in Entrepreneurial Management from the Pan Atlantic University, Nigeria Do you think these courses will help in your quality administration of Ben TV?
Oh definitely. You need law and management techniques in every sphere of life. Whatever you do, there is no knowledge lost. In my day to day dealings with people I apply the knowledge and skills I have gained over the years and it helps me to excel.
Q: You once worked at ICNL, publishers of PM News, The News and defunct TEMPO. What memory do you have of your experience there?
It was a fantastic learning field. I met and still keep in touch with a lot of brilliant minds. My Oga, (as I fondly call him), Mr Babafemi Ojudu, a former Special Adviser to President Buhari on Political Matters. I am still very much in touch with Mr Goodluck Ebelo and Mr Muyiwa Adekeye who are my adopted big brothers. My former editor, Mr Babajide Otitoju is at TV Continental. Everyone has gone on to greater heights. The training and experience I gained at ICNL has contributed to who I am today. We were one big happy family and I don't have any regret being a part of that.
Q: In the Nigerian media industry, who is the icon in the Press that you looked up to as a mentor?
I learn from everyone. I honestly can't tell you this particular person is my mentor. I grew up watching the likes of Ruth Benamaisia Opia, Hauwa Baba Ahmed, late Yinka Craig, Patrick Oke, Frank Olize, Abike Dabiri, Ronke Ayuba to mention a few. Everyone was unique in their own way.
Q: Since you began your new position on BEN TV as a leading broadcast journalist, what has leadership taught you?
Leadership has taught me that you will find different kinds of people in a team just has Jesus different characters in his team of disciples. I have learned that everyone is different and I try to draw out each person's unique strength so we can work together effectively.
Q: How do you describe media performance in Nigeria's democracy?
As the fourth pillar of Democracy, the media plays a very important role in influencing public opinion and secondly as a watchdog. The last elections were adjudged free and fair even though there was a palpable sense of fear initially. The media was pivotal in the emergence and sustenance of a democratic Government. I am glad adequate freedom has been given to ensure there is fairness, equity, checks and balances, and justice. I see a lot of people expressing their political opinion on Social media and other media platforms without fear. Some people fought that battle with their lives and thank God we are seeing results today.
Q: What is your opinion on the N800million Music House radio station of Yinka Ayefele by Governor Ajimobi in Oyo state?
The matter is being resolved between the parties involved and I am happy about that. The Government and stakeholders in the community have done the best thing by wading in and trying to resolve the conflict.
Q: Were you at any time influenced by late Mee Mofe Damijo or late Dele Giwa?
I was a big fan of MEE Mofe Damijo, publisher of defunct Classique magazine and presenter of MEE and You. I was 14 when she died but like a lot of young people at the time. we were motivated to see a young beautiful lady who was so hardworking and dedicated. It was rather unfortunate she left when she did. Dele Giwa I also loved because he was fearless and died for what he was passionate about. I thank God for their lives and the indelible marks they left. Their memories will never be forgotten.
Q: Finally, how will you describe the entertainment industry in Nigeria?
The Nigerian entertainment industry has witnessed an exponential growth over the years and this is very remarkable. The music and movie industry has created massive opportunities for people locally and internationally. The fashion industry is gradually coming up too. BEN TV over the years has encouraged and will continue to support homegrown talents. There are so many untapped opportunities, undiscovered talents, underutilized assets, however, I am optimistic and excited about the future I see. Nigeria is the entertainment capital of Africa. Our music now has global recognition, so does Nollywood and our fashion industry. Eyes are on us, the whole world is watching and waiting.
#About BEN TV:
BEN is a Black and Ethnic oriented, urban, diverse and cosmopolitan Family Channel, established to provide a wholesome mix of entertaining, educative and informational programmes suitable for family viewing. It includes ranges of cultured programming to empower, transform and challenge the conventional perception of Africa, Caribbean and African-descendants in Diaspora. "Bridging the Gap".
What sets BEN apart from other channels, is its positive general black-oriented, youthful and diverse cultural-educational programming format along with its enlightening current affairs shows which serve to throw light on issues plaguing the African and Caribbean Continents.
The UK is estimated to have an ethnic population count of more than 3 million which represents about 7% of its total population. This in addition to the Ethnic population in Europe, America and North Africa which gives BEN Television a strong global consumer presence.
The primary target audience is and rational to about 12% of the daily growing audience of more than 13 million homes in Britain who use Satellite and Digital reception whilst accessible to millions across the world – www.bentelevision.com