INVESTIGATION:
RUSSIA'S Wagner Group backed former Warlord, Army General MOHAMMED HAMDAN DAGALO, alias 'Hemeti', Local Mercenaries behind SUDAN Civil War, Xenophobic Attacks against Foreigners
…Target nation's Magnesium, Gold, Zinc, other mineral resources for Moscow enrichment, development
*Supplies Sudan's Rapid Support Forces with missiles, hi-tech ammunition
*Fight deprive millions of people from electricity, water and food
*"413 killed, others wounded,  local rebels use club; machetes, stones to mob some foreigners to death in the streets of Khartoum. Dead bodies covered the road leading out of the capital of Sudan. Russian Transport Plane sighted shuttling between two key Libyan air bases"-Eye Witness Account
*BY KELVIN ISIMEME/DIPLOMATIC EDITOR, Reporting LIVE from Khartoum
FROM ALL INDICES, THE ADMINISTRATION OF VLADIMIR PUTIN, the Russian President contracted Wagner Group, a blood-thirsty mercenary military operations now fully stationed in Sudan has been alleged to lead, co-opt local rebels under Army General Mohammed Hamdan Dagalo, a former Warlord to the un-ending civil unrest on-going in Sudan where 413 people have been killed, others wounded. Evidence has shown that Russia targets the Sudanese Magnesium, Zinc, Gold and other mineral resources by causing so much unrest in the country. Sadly, some foreigners in the country have been victims of Xenophobic attacks since the lawlessness began. The Putin administration has been supplying  Sudan's Rapid Support Forces with missiles, hi-tech ammunition to cause commotion. And the fight has deprived millions of people from electricity, water and food.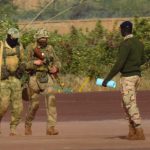 At least 413 people have been killed in fighting in Sudan since violence broke out on April 15, according to the United Nations' World Health Organization, most of them civilians. One U.S. citizen is among those who have been killed, the State Department said Thursday, without providing further detail.
An eyewitness account told our correspondent that he  saw how local rebels used club; machetes, stones to mob some foreigners to death in the streets of Khartoum. " Dead bodies covered the road leading out of the capital of Sudan. Russian Transport Plane sighted shuttling between two key Libyan air bases," he added.
In his first statement since his disagreement with another commander engulfed Sudan in violence nearly a week ago, the head of the Sudanese Armed Forces, Gen. Abdel Fattah Burhan, said Friday that he was committed to a "safe transition to civilian rule" for the east African country, the Associated Press reported. The comments appeared to be a bid for international support as the deadly fighting between his forces and those of his now-rival, Gen. Mohammed Hamdan Dagalo, continued despite calls for a ceasefire to stop the bloodshed for the Muslim holiday of Eid al-Fitr. 
Burhan and Dagalo, who commands Sudan's paramilitary Rapid Support Forces (RSF), had been allies, joining forces to topple long-time dictator Omar al-Bashir in 2019. But a recent dispute over how to consolidate their two forces turned them against one another, leading to the current bloodshed, which three ceasefire attempts have now failed to halt.
A Sudanese medical group said "several areas of Khartoum were bombed" overnight as people marked the holiday, and there was ongoing "shelling and clashes," according to the AP.
"Instead of waking up to the call to prayer, people in Khartoum again woke up to heavy fighting," Endre Stiansen, Norway's ambassador to Sudan said Thursday. "Can any hell be more horrible than this?"
The sudden eruption of warfare in the country has left many other nations scrambling to try and ensure the safety of their citizens there. 
The U.S. was "moving forward to pre-position some military forces and capabilities nearby just for contingency purposes in case they would be needed for any kind of evacuation," National Security Council spokesperson John Kirby said Thursday. He added that no decision had yet been made about evacuating U.S. personnel.
Meanwhile, civilians caught up in the fighting were continuing to try to flee to safety.
"There is no safe place anymore in Khartoum," 37-year-old baker Dallia Abdelmoniem told the AP. She said her family decided to flee the capital after a rocket came through their roof.
From a shelter outside the city, she said the road leading out of Khartoum was covered with dead bodies.
"Our number one priority is just to stay alive," Abdelmoniem said.
The Russian mercenary group Wagner has been supplying Sudan's Rapid Support Forces with missiles to aid their fight against the country's army, Sudanese and regional diplomatic sources have told CNN.
The sources said the surface-to-air missiles have significantly buttressed RSF paramilitary fighters and their leader, Mohamed Hamdan Dagalo as he battles for power with General Abdel Fattah al-Burhan, Sudan's military ruler and the head of its armed forces.
In bordering Libya, where a Wagner-backed rogue general, Khalifa Haftar, controls swathes of land, satellite imagery supports these claims, showing an unusual uptick in activity on Wagner bases.
The powerful Russian mercenary group has played a public and pivotal role in Moscow's foreign military campaigns, namely in Ukraine, and has repeatedly been accused of committing atrocities. In Africa, it has helped to prop up Moscow's growing influence and seizing of resources.
Dagalo and Burhan had been jockeying for power in negotiations over restoring civilian leadership in Sudan before talks broke down, erupting into some of the worst violence the country has seen in decades.
The fighting has claimed hundreds of lives and deprived millions of people from electricity, water and food.
Satellite images analyzed by CNN and open-source group "All Eyes on Wagner" show one Russian transport plane shuttling between two key Libyan air bases belonging to Haftar and used by the sanctioned Russian fighting group.
Haftar has backed the RSF, sources say, although he denies taking sides. And increased Wagner activity at Haftar's bases, combined with claims by Sudanese and regional diplomatic sources, suggests that both Russia and the Libyan general may have been preparing to support the RSF even before the eruption of violence.
The uptick in movement by the Ilyushin-76 transport aircraft started two days before the conflict in Sudan began on Saturday, and continued until at least Wednesday, according to satellite images and Netherlands-based open-source specialist Gerjon.
That plane, one of a class of aircraft known by the NATO designation Candid, flew from Haftar's Khadim airbase in Libya to the Syrian coastal city of Latakia – where Russia has a major airbase – on Thursday, April 13. The next day, it flew from Latakia back to Khadim. The day after that, it flew again to another Haftar air base in Libya's Jufra. It parked in a secluded area, something flight tracker Gerjon considered highly unusual. This was the day the conflict erupted.
The transport plane returned to Latakia on Tuesday before flying back to the Libyan militia airbase of Khadim and then to Jufra, according to Gerjon's research. That day, Russia airdropped surface-to-air missiles to Dagalo's militia positions in northwest Sudan, according to regional and Sudanese sources.
 CERTAINLY, Good journalism costs a lot of money. Without doubt, only good journalism can ensure the possibility of a good society, an accountable democracy, and a transparent government. We are ready to hold every corrupt government accountable to the citizens. To continually enjoy free access to the best investigative journalism in Nigeria, we are requesting of you to consider making a modest support to this noble endeavor."
By contributing to NAIJA STANDARD NEWSPAPER, you are helping to sustain a journalism of relevance and ensuring it remains free and available to all without fear or favor.
Your donation is voluntary — please decide how much and how often you want to give. For offline donation, email: letters@nigeriastandardnewspaper.com or call +2348037128048 (Nigeria) or +16825834890 (United States of America)
[pff-paystack id=