'Lagosians: Get Ready for Increase in Transport FARES from March 1st'-Lagos State Government
…'We Approved Fare increase from 20% to 50% on BRT, LAGBUS, Franchise Buses'
* 'Economic downturn severely impacts Public Transport'
* 'We will Reform Public Transport Operation, Create World Class Infrastructure'
* 'Under the New Development: Ikorodu to CMS formerly N195 is now N300, representing over 65 percent increase, N75 to N100 for a ride from Ikorodu to Mile 12; From Ikorodu to Fadeyi is now N200 from 120′
* 'No More Room for OKADA, Danfo (Yellow Buses), MOLUE'-INVESTIGATION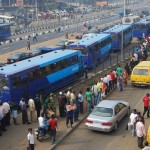 BY KEMI OLAOLUWA/ REPORTER, LAGOS
TOUGH TIMES await residents of Nigeria's economic hub, Lagos State as the Executive Governor Akinwunmi Ambode has put plans in place to turn the state into a Global Tourist Center by creating a World Class Infrastructure in the Transport sector which will immediately boost more visibility of Bus Rapid Transit (BRT), LAGBUS and franchise buses, as the government made fortunes in the prevailing economic recession.
Addressing newsmen at Bagauda Kaltho Press Centre, Alausa, on Monday, February 13, Engineer Abiodun Dabiri, the managing director of the Lagos Metropolitan Area Transport Authority, (LAMATA), said the Lagos state government approved fare increase ranging from 20% to 50% on different routes plied by the buses.
Dabiri corroborated our position that Governor Ambode has approved the increase of fares for Bus Rapid Transit (BRT), LAGBUS and franchise buses. From March 1, commuters using the LAGBUS and BRT buses in Lagos will begin to pay more.
In the words of Dabiri: "As a result of the economic downturn, public transport had been severely impacted as all related costs had escalated beyond any financial forecast or projection. The current government was focused on a strategic reform of the public transport operations in order to create world class public transport infrastructure and support for operations that is modern, cost effective, safe and sustainable on the long run.
"Under the new development, some of the fares will be: Ikorodu to CMS which used to be N195 is now N300, representing over 65 percent increase N75 to N100 for a ride from Ikorodu to Mile 12. From Ikorodu to Fadeyi is now N200 from 120. Also, the various franchise under the LAGBUS (red bus) have increased fare for the 60 routes they are plying across the state."
'No More Room for OKADA, Yellow Buses, MOLUE'-INVESTIGATION
Meanwhile, further investigation by our correspondent showed that from March 1, 2017 when this new policy of Governor Ambode will be effective, there will no longer be rooms for Okada riders, Yellow buses and MOLUE all over Lagos State which may increase crime rates in the state, as millions of youths who had earlier relied on Okada, Danfo (Yellow) buses and MOLUE as their only source of livelihood may take to crime on the long run for survival.
According to Kunle Fatoki, an Okada rider in Agege who expressed himself in pidgin English: "Ambode don finish Okada owners. How we go take cope? How we go take eat? Na dis Okada we dey do for send our pikins go school. Haa, we be miss Fashola (former Lagos Governor, now minister in President Muhammadu Buhari's administration). Dis one go make crime go high for the state o."
Chinedu Oyiwere, a graduate who turns Yellow bus driver, plies Ojota route daily due to long years of joblessness speak in fluent English: "I am a graduate of English from University of Lagos. Long years of joblessness made me drive this Yellow bus for survival. I have a wife and three daughters. How am I going to survive the resultant effect of Governor Ambode's action? He could have given us enough time, then provide us opportunities to be enlisted as drivers of BRT, LAGBUS and franchise buses without us having to pay any fund as collateral. Do you know the resonatic effect of this action on the lives of people and properties in Lagos State? My family and I had been squatting in a friend's One room apartment for over two years now in Yaba. This is sad."
Kamoru Adeleke, a Molue driver in Ikorodu was full on anger when asked of his reaction to Lagos State governor's newest Transport policy, "Who advised Ambode to take food away from our mouth? Why is this guy this wicked? Is he staying in the moon without knowing what we are going through? Why has he abandoned former Governor Babatunde Fashola's guide on how to move the state forward? Why is this man making people homeless, jobless and hungry? Unfortunately, innocent Nigerians will bear the brunch."