NIGERIA 2015 ELECTIONS: DANGEROUS SIGNALS AHEAD!
BY GEORGE ELIJAH OTUMU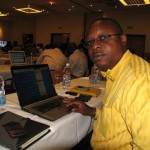 NIGERIA, Africa's most populous black nation in the world is surely facing a most trying period at this moment in history, as signals emanating from the polity is a reflection of sorrows, tears and blood. The signals are ominous, laced with fear, anxiety and uncertainty.
The electorates are at panic as to whether the much-awaited election would be credible, fair and free, devoid of any 'violence'. But the rising insecurity in North-East zone of Nigeria, where Boko Haram -'Jama'atu Ahlis Sunna Lidda 'Awati Wal-Jihad' whose meaning translates 'Western Education is a Sin' is holding its stronghold is presently under heavy military bombardment led by the Nigerian military, assisted by Niger and Chad soldiers in a move backed by African Union ahead of the tension-soaked election slated for Saturday, March 28, 2015.
The beats and drums of 'war' being rolled out by two major political parties: Peoples Democratic Party (PDP) the ruling party with a sign of an umbrella and the All Progressives Party (APC) the opposition party with a logo of 'broom' through their campaigns-that are often sent via airwaves, or on social media are most times out of tune with 'issues' but dwells on 'innuendos, abuses, insults and at times 'blackmail.'
Sad, that Nigerians are waiting for issues-based manifestos devoid of 'unhealthy-language, unprintable words and highly-enlightening plans these leaders: Goodluck Jonathan of PDP (the incumbent) and General Mohammadu Buhari (retired former Head-of-State) representing APC have in store for the people.
Most unfortunately, majority of the supporters of these political parties especially in the Northern side of Nigeria have been taking laws into their hands-especially the APC political fanatics who on two various occasion pelted the official car of Nigeria's President fully guarded by soldiers in stones, chanting: 'Sai Buhari'. There were occasions where campaign posters of Jonathan were torn, pull down and occasional set-ablaze in the North. As a very calm leader, Jonathan government has decided to move on in ensuring Nigeria's security is paramount above every other national duties.
When Nigeria's President was recently briefed by his Sambo Dasuki-a retired Colonel of the Nigerian Army who doubles as National Security Adviser, explained that the nation was not safe to have conducted an earlier election slated for February 14, 2015, the opposition was on 'fire', echoing that the election must hold. The question Nigerians were asking then was: what will be the fate of the voters in the 14 local government where Boko Haram had held sway, since they are all Nigerians; and Nigeria have 774 local governments in totality.
At the end of the Council of State Meeting-the highest decision making body in Nigeria which had in attendance all Former Head-of-States/Presidents, Governors, Senate President and Speaker House of Representatives; at the end of the day Dasuki joined by other military service chiefs agreed unanimously that the election be shifted till March 28, 2015.
Professor Attahiru Jega, Chairman of Independent National Electoral Commission (INEC), the umpire expect to conduct this election attracted lots of controversies and 'jabs' were thrown at him when it was discovered that barely 40% electorates in Lagos had voters cards, about 50% had their voters card in Borno/Adamawa States. Though Jega tried to explain himself, but majority of Nigerians knew this electoral umpire was not sincere that all Nigerians had voters card to vote.
In face of all these dangerous signals and 'confusions', Nigeria's President in a media chat held few ago had assured Nigerians and members of International community that election will hold on March 28, and new President would be sworn-in by May 29, 2015. For the Boko Haram who kidnapped over 200 Nigerian school girls for alleged 'sex-slavery', Jonathan said in six weeks, Nigerian military, supported by soldiers from Niger and Cameroon are already combing and bombarding Boko Haram now in their hideouts.
Buhari granting an international media interview same day said he was disappointed by the excuse given by the position taken by the present administration of the incumbent in 'shifting election' for another date. He stated that he knew where the problem of Boko Haram began and he knows how to resolve it.
Even, Bola Ahmed Tinubu, the national leader of APC for few days had his house fully under surveillance by Nigeria's military authority whose over 30 fully-armed soldiers in three army vehicles positioned themselves by the entrance of this former governor's mansion in Ikoyi, Lagos which made him shout-out for help.
As at the time of filling in this report, night life is at the lowest ebb in Northern Nigeria, with constant high-rise inflation where Nigeria's currency (Naira) is devalued in the international forex market, coupled by daily inflation in cost of living for the masses.
Majority of Nigerians are of the opinion that Jonathan holds the ace in fully transforming Nigeria in this forth-coming election with a human leadership for Nigeria, since Buhari's past is seen as 'draconian, autocratic, iron-fitted and merciless', and 'like a leopard, he may not change his skin'. His confession in the foreign media recently was: "I had no regrets about what happened when I was a military head-of-state in Nigeria." Certainly, these are dangerous times and this coming elections would determine if Nigeria will still remain indivisible, going by several lawsuits flying around in Lagos and Abuja High Courts pertaining to the election.
George Elijah Otumu, Editor-In-Chief, Naija Standard Newspaper Inc USA