NIGERIAN Rising Star, SHABA UGLY Rocks Germany with Dancehall Reggae Music…Sing-alike of South Africa's Lucky Dube, Nigeria's Righteous-man inspires in 'Let's God Will be Done'
*Much sought-after single takes over German Concerts, Night Clubs and Churches
*Germans call him 'African Music Star'- "Du bist ein afrikanischer Musikstar. Wir lieben dich sehr. Ihre Musik ist erfrischend und inspirierend," which translates: "You are African Music Star. We Love you greatly. Your music is refreshing and inspiring"
*Others call graduate of Ambrose Alli University, Ekpoma, Edo state: 'African Reggae Star'- "Afrikanischer Reggae-Stern"
* "The story of Joseph from Prison to Palace narrates the journey of my life. From Grass to Grace can only happen when you fully believe in God alone and never put your trust in human beings"-IRABOR SHABA JUNIOR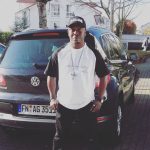 BY GEORGE ELIJAH OTUMU/AMERICAN FOREIGN BUREAU CHIEF & HELEN AFOLABI/ENTERTAINMENT CORRESPONDENT, GERMANY
HE IS A NIGERIAN BORN MUSIC STAR IN GERMANY. HE LIVES IN Friedrishafen, Bodensee. IRABOR SHABA JUNIOR, originally from Edo State has long been known as 'Shaba Ugly' due to the peculiarity of his songs before he left the shores of Nigeria many years ago. On arrival in Germany, his second album, a hit single titled 'Let's God Will be Done' has now shot him into national limelight in Germany.
Shaba Ugly, a reggae dancehall musician, a graduate of Educational Administration & Management from Ambrose Alli University, Ekpoma, Edo state is now well celebrated for the quality of his latest music released under 'Esan Massive Productions' which has made a lot of Germans to call him 'Africa's Lucky Dube', even though he sounds more like Nigeria's Righteous-man, another famous Nigerian reggae musician. He has been performing in major Night Clubs, Churches and Concerts all around Germany.
For Oklave Domitria, a German graduate of Communication, she explained that Shaba Ugly is an African Music Star. Her words: "Shaba Ugly-Du bist ein afrikanischer Musikstar. Wir lieben dich sehr. Ihre Musik ist erfrischend und inspirierend," which translates: "You are African Music Star. We Love you greatly. Your music is refreshing and inspiring."
For Xritina Kleivotiv, a Music undergraduate in German University, she said: "Shaba Ugly-is African Reggae Star'-Afrikanischer Reggae-Stern."
In his response, Shaba Ugly explained: "The story of Joseph from Prison to Palace narrates the journey of my life. From Grass to Grace can only happen when you fully believe in God alone and never put your trust in human beings. Always I put God first. You must learn to believe in yourself. Today may be rough, but tomorrow will be greater. Never you look down on yourself. The rejected stone now the head corner stone."
For the records, his maiden album in Germany few years ago was titled 'Open Card', with other nine tracks earlier churned out under Chubb records.