'NIGERIANS: Give me your Vote this Second Chance, I know where my votes will come from'-President BUHARI
*I am Confident Pregnant Women and Nigerian masses will vote me back to power
* I Have warned INEC, Security Agencies to ensure that every vote counts in 2019
* I am not 'President Slow-Motion' as some Nigerians assumed, I am only trying to follow the law, especially as democracy is different from military rule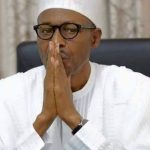 BY ILIYA MOHAMMED/POLITICAL REPORTER
SENSING THAT THE 2019 ELECTION IS DRAWING NEARER, President Muhammadu Buhari has openly beg Nigerians to give him a second chance by voting him back to power in 2019 election. He assured the nation that he is confident that pregnant women and the masses will vote for him.
Buhari said he was not hoping to get any vote from the "big men" because they don't come out to vote during elections. The President also said that he would perform better if given another opportunity adding that the people needs to work with him to ensure a better Nigeria.
Buhari further stated that he had warned the Independent National Electoral Commission, INEC, and the security agencies to ensure that every vote counts in 2019. He said he instructed them that all Nigerians must be allowed to vote whoever they want without harassment.
Media reports confirm that Buhari spoke on Thursday during an interactive session with a select group of Nigerian professionals based in the United States and Canada.
Mr. President said he recognised that Nigerians in the diaspora were talented people and called on them to come to the support of the country, particularly, in education. The president also said that he was not slow as some people had assumed, saying he was trying to follow the law, especially as democracy is different from military rule.
He recalled that he put people in Kirikiri Maximum Prison in Lagos when he was a military head of state and then ensured they remained in custody until they were able to prove themselves innocent.
Buhari, however, said his administration was making progress but had to go by the law assuring that "if I win the next election and I survive the next four years, I will do better".
He also recounted his experience in politics saying that he suffered electoral corruption from 2013 when he started contesting for the presidency and had at each point, pursued the case up to the Supreme Court but lost.
Buhari adds: "I'm always conscious of the ordinary people because they are the ones that always vote for me. A lot of big men have no time to go and queue on the line for hours. There were even pregnant women who were on the line for hours and they delivered. They are my constituencies; they always vote for me."