SHOCKING:
NIGERIAN Teacher in France, CYPRIAN JOSSON, alias DURU Rubbishes Nigeria's Image on Nollywood Project…Allegedly Collect Funds from Lycee Notre Dame School to showcase latest Nigerian movies from Famous Actors for students
*Deceived school to Release a-15year old movie titled 'Bleeding Rose' as Nigeria's latest film
* Old movie featured late J.T. West as lead character with old background, cracked sound track and faded pictures
*Convinces school management to send Invitation letters, administrative assistance to his 'unknown actor friends in Nigeria'
* 'We denied some Nigerian Actors whom we don't know entry visas to France for credibility sake. We don't know them as actors in Nigeria'-French Embassy Lagos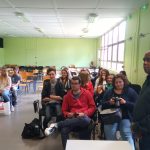 BY CAROLINE OBARU/MOVIE REPORTER, PARIS
WHILE MILLIONS OF NIGERIANS ARE lawfully working hard to rebrand Nigeria's image more positively Abroad, a Nigerian born French naturalized man, Cyprian Josson, a teacher in Lycee Notre Dame school, an Ivy league institution in France has deceived his school management to make available latest Nigerian movies 2017 after he allegedly collected funds from the school to ensure some famous Nigerian actors were physically present in the institution to interact with the students.
In a press statement made available to us, it was confirmed that none of the French teachers or students had a fore-knowledge that Cyprian 'hand-in-hand' with his group of his 'unknown Nollywood actors' had perfected ways to sneak in these friends of his from Lagos state into secretly relocation. This eventually led diplomatic official in French Embassy to deny him Visa, as they alleged that the actors' names he submitted were not known, had no credibility.
The statement reads: " Earth, they say provides enough to satisfy everyman's needs but definitely not everyman's greed and selfishness. This is exactly what came to fore recently at an international forum where the glory of the much talk about Nollywood films was soiled by a greedy Nigerian man.
The Nigerian movie industry which is reputed to be the world's second biggest in terms of production quality, scripting, plotting, storyline, movie locations, costuming, economic activities including the general acceptance of her dramatis personae the world over was sold so cheap to a gathering of French students in France recently.
"The event which was tagged 'Film for Students Day' was put together by the management of one of France' Ivy League institutions, Lycee Notre Dame, Chartres, for its students to have a feel of the evolving and much publicized Nigeria entertainment industry, Nollywood by way of having a mutually beneficial collaboration but it turned out to put Nollywood in bad light.
"The school's management led by top directors, Marc Tranin and Fredrick Maillard had liaised with one of the teachers, Cyprian Josson who happened to be a Nigerian on the need to invite top stakeholders in Nollywood from Nigeria with a view to screening, a latest and very popular movie for students' delight.
As a typical Igbo man, Cyprian Josson, who friends fondly referred to as Duru quickly jumped into action and instead of liaising with stakeholders of repute from Nigeria, he saw an opportunity to bring his friends in, so they got in touch with some female budding movie producers and not too popular actors in Nigeria to host the show in France."
The school authority was committed for all the trappings of the journey, they were made to send letters and other administrative papers as demanded by the French embassies but on the usual, balance of probabilities and credibility, the artistes were denied entry visa for the journey. A diplomatic source in French Embassy Lagos confided in our correspondent in the following words: "'We denied some Nigerian Actors whom we don't know entry visas to France for credibility sake. We don't know them as actors in Nigeria. We follow all latest Nollywood movies in Nigeria, we know the roles played by various actors and we are in the know of major actors."
It was gathered that panic-driven Cyprian expressed shock and was confused when he heard his 'make-belief Nollywood actors' were denied French visas. obviously for pecuniary gains, instead of perfecting the other end by getting a 2017 latest Nollywood movie to screen for the students of Lycee Notre Dame on the day of the event, June 6th, 2017, he decided to contact a friend in the UK and they hurriedly put together an old movie, Bleeding Rose which had late J.T Tom West as the lead actor.
Though, they were able to hoodwink their victims-the school authority and the innocent students by presenting the movie, 'Bleeding Rose' as a latest Nollywood movie shot in 2015, people in the know, especially Duru's friends knew a movie that has J.T Tom West as a lead character cannot be less than 15 years because it is a statement of fact that, J.T Tom West died in September 2006 and was buried in October same year.
As if that was not enough, the picture quality of the movie, plots, setting, costumes and even the age disparity of the actors were far from doing justice to the characteristics of the modern day Nollywood. Please visit YouTube to see the movie, 'Bleeding Rose' and compare Olu Jacobs, Kate Henshaw and late J.T Tom West of then and now.
Without a doubt, it was a show of shame for an industry like Nollywood which has come of age and contributed immensely to the world's entertainment and to say the students were more than disappointed was to say the least as the colours of the eyes portrayed nothing but sadness.
When one of the students during an interactive session forcefully ask "If this is real Nollywood or a kind of child's play", the organisers had no choice but to device another means of convincing them by saying, "there are two types of Nollywood, the Nollywood of old and that of new."
That there greedy people like Duru in France using Nollywood to do deal behind the due his lustful desire for wealth is an understatement. He has brought opprobrium to Nigeria and Nigerians in the Diaspora. His allegedly dubious behavior has further soiled the hard-earned unparalleled image of Nigeria's Nollywood.