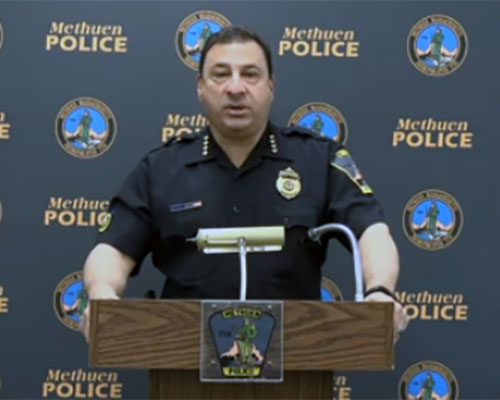 Former AMERICA Police Chief Indicted for FRAUD, FORGERY, CORRUPTION
…Employed officers that did not attend Police Academy
*Misused his position of authority as police chief to 'repeatedly undermine the law for his own benefit' by hiring six part-time Methuen police officers-INVESTIGATION
*"I am not Guilty. I am innocent of all accusation"-SUSPECT 
*"Joseph Solomon is now facing charges of perjury by written affidavit (2 counts), obtaining unwarranted privileges in violation of the civil service laws (7 counts), civil service law violations (6 counts), uttering a forged document (1 count) and procurement fraud (1 count)"- U.S. Attorney General's office
*BY GEORGE ELIJAH OTUMU/AMERICA Senior Investigative Editor & TIM BOYLE/SPECIAL Police Reporter, USA
SHAMEFUL, UNBELIEVABLE were the words that capture the revelation surrounding the outcome of a thorough investigation that indicted an embattled former Methuen police chief, Joseph Solomon who was arraigned for a slew of criminal charges, bothering on Fraud, Corruption and Forgery on Friday.
Solomon is now facing charges of perjury by written affidavit (2 counts), obtaining unwarranted privileges in violation of the civil service laws (7 counts), civil service law violations (6 counts), uttering a forged document (1 count) and procurement fraud (1 count), according to the U.S. Attorney General's office.
Additionally, former Methuen police officer Sean Fountain faces charges of forgery (1 count), uttering a forged document (1count), perjury (1 count), procurement fraud (1 count), and a conflict-of-interest law violation (1 count).
An investigation by the AG's office, done in conjunction with the Essex County District Attorney's office, found that Solomon "misused his position of authority as police chief to repeatedly undermine the law for his own benefit" by hiring six part-time Methuen police officers, including Fountain, before appointing them to full-time roles.
The AG's office also says Solomon made others believe that Fountain had graduated from a police academy when he had not.
Solomon pleaded not guilty to all charges and was released on personal recognizance with the following conditions:
Stay away/no contact with witnesses
No out-of-state travel
Not to possess any firearms, dangerous weapons, or other destructive devices
Not to reside or overnight where firearms are stored
Surrender passport to state police
Solomon was put on leave in December 2020 following a report from a state Inspector General that found irregularities in the way the city handled the contract that led to his $350,000 salary. He retired in 2021.
Both men are due back in court on Jan. 23 for their next hearing.
SUPPORT OUR INVESTIGATIVE JOURNALISTS & JOURNALISM:
CERTAINLY, Good journalism costs a lot of money. Without doubt, only good journalism can ensure the possibility of a good society, an accountable democracy, and a transparent government. We are ready to hold every corrupt government accountable to the citizens. To continually enjoy free access to the best investigative journalism in Nigeria, we are requesting of you to consider making a modest support to this noble endeavor."
By contributing to NAIJA STANDARD NEWSPAPER, you are helping to sustain a journalism of relevance and ensuring it remains free and available to all without fear or favor.
Your donation is voluntary — please decide how much and how often you want to give. For offline donation, email: letters@nigeriastandardnewspaper.com or call +2348037128048 (Nigeria) or +16825834890 (United States of America)
donation